Communication within the club
Communicating has never been easier with SportMember
Are you, as a club, lost with all messages sent on several apps? Do you get confused with the multiple of group discussions scattered across multiple apps? You want to gather all the communication on one app? So say goodbye to text messages, WhatsApp, Messenger and more because SportMember is the solution for you and your club!

SportMember is a simple communication tool designed to make your life easier. Thanks to SportMember, you can communicate with all the members of your club on ONE SINGLE platforme as SportMember uses multiple channels for communication. The great thing about it is that communication is centralized, all the members of the club are connected to each other with SportMember and you as a club are in control. This means that you can choose to communicate with certain members, or the whole team, with all or certain coaches or even with the parents of the players, and all of this in different ways.
In other words, SportMember centralizes and optimizes communication, so that the right information always goes to the right people!
A user friendly communication tool
You want to send an email about an activity, a payment or on something else to one or several members or to the whole staff in the club? Nothing could be easier with SportMember. All contact data on your club's members and staffs are gathered in one place, in our system. So no need to manually enter all emails from players, coaches, staffs etc. to get in touch with them. You gain both in time and in efficiency!

Besides emails, you can also use push notifications to communicate important messages quickly with your club's members. It can be sent both when you use the app and the computer. With push notifications you can inform about activities to the team and like with emails, you can also inform all members at once or select specific members.
SportMember has its own instant messaging!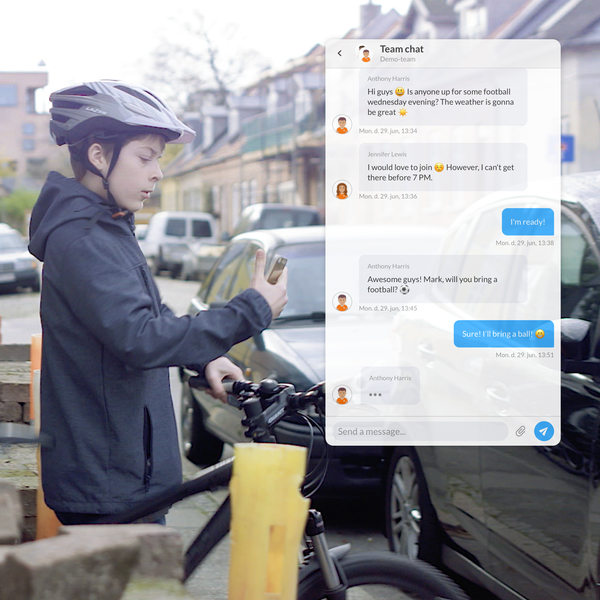 Besides being able to send emails and push notifications via SportMember, you can also send instant messages. So you can stay in touch with any member of the club at any time. The chat function can be used on both the computer version of SportMember and on the SportMember app.

What is special about the chat in SportMember is that it is divided into several groups which make it much easier and more confortable to use. So no more confusing chat processes, no more information overload and most important, no more lost information!
Let your members participate in the social life of your club
Thanks to discussion forums, polls and commentary sections in the calendar, every member can have a voice. Each member can easily express its opinions and vote on important issues in the club. It is also possible for you and your members to upload and share photos, videos and files on SportMember.
Thus, SportMember is a social tool that strengthen the relationship within the club by promoting team spirit!
Sports communication with SportMember app
The SportMember app keeps your members in constant contact with your club and teams. By downloading the app on their smartphones, your members have access to their own SportMember interface where they can keep up to date with the latest news about the club and the teams, and receive messages from their coaches and teammates.

In summary, our software uses multiple communication channels: emails, push notifications, a forum to discuss important topics and commentary sections in the club calendar. With SportMember you therefore have the choice in how to communicate with your club!