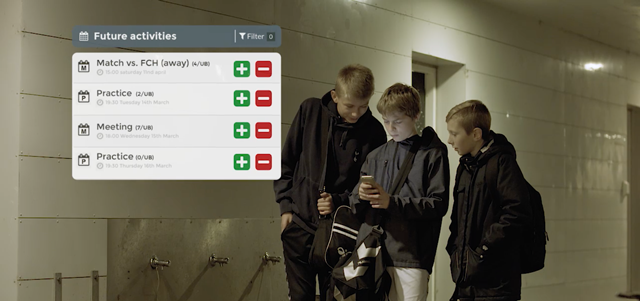 Sports team scheduling system: An easy, online and shared calendar
One of the most essential features of SportMember is our scheduling system for every sports team. The online sports team calendar is a very powerful tool to help sports teams and clubs organise every practice, match, and events taking place! Most coaches spent hours and hours organising and communicating to players, parents, etc.. Often coaches will experience a lot of information gets lost in group chats, texts, and well ... because players do not always listen! That's why we here at SportMember developed the cloud-based online sports team scheduling system as app which makes your life easier as a coach, as a player, as a parent!
Coaches will always be informed. Every player can easily go register whether they are attending the activity or not. It has never been easier being a coach. It is easy to keep track of players attending the activities and sharing information for the given practice or match!
The free shared calendar for every sports teams and clubs
Here at SportMember, we have developed a free sports team calendar app and software that is available as both a web-calendar and mobile app. This is very useful for any sports team that has trouble with player attendance. Our mission is to let the coaches coach and not waste their time organising.
As a coach, you easily create an activity, lean back, and wait for your members to sign in to the shared calendar of the sports team. SportMember takes care of the rest in terms of sending reminders and information. If your players do not respond to the activity you have created in the calendar they will receive a push notification from their own SportMember app reminding them to answer whether they are attending or not. Therefore, the sports team scheduling makes everything easier - and you do not need to ask every single player. You will gain a complete overview of the players who are attending making you able to design and adapt to the number of participants!

SportMember also has the implemented features for the coaches to either send mails and text messages easily individually and for the entire sports team. If you need to let the entire sports team know that this weekend's match has been rescheduled, send everyone a text message and let the players update the answer in the shared team calendar in the SportMember App. The shared calendar app is in every way designed to make your sports team work easier, faster, and more manageable so that you can use your time as a coach more efficiently. 
Online scheduling for your sports team - makes everything easier!
A specific holiday calendar can be accessed, so that you can see which members are on holiday in specific periods. Moreover, SportMember excuses these members on holiday from participation so that they are not receiving information regarding activities that are not relevant in the given period.
The members will love it, and you as a coach will to a greater extent enjoy the automatic overview of all the available members for the upcoming activities. The sports team scheduling has never been easier.
But that's not all! If your sports team has a regularly planned activity on a weekly basis – such as a practice every Tuesday at 19:00 – then you don't need to create a new activity every week throughout the season. All you will need to do is ticking the "Fixed activity" box for activities that are repeated on a weekly basis. This function is highly useful for weekly meetings, practice and so forth. It would of course also be a very unpleasant job to enter all of these practices to the shared calendar
Sports team calendar: Online and shared calendar
As the member of a sports team on SportMember, you will never have to pull the coach aside to ask him/her about the upcoming events or to inform about whether you will be able to participate.
By the single click of a button in SportMember, you can register whether or not you will attend an activity created by your coach. This gives him/her the opportunity to see if you are able to participate.
With the SportMember app you will always have the calendar of your sports team in your pocket. Whether you are sitting in the train, attending a birthday party, or doing something else, you will always be able to access the shared sports team shared calendar and check when and where the next activity is going to take place. Calendar sync is only a few clicks and you will have your team's calendar together with your own. If you don't know how to do this, just take a look here. You will not only have your sports team's calendar in the SportMember app, but also accessible through your own personal calendar. Easy!
The benefits do not stop here. Internally on the team you can, with SportMember, further arrange and coordinate who is responsible for the transport to the away matches. Make your car available for carpooling. Select how many people you have space for and wait to see which members that will carpool with you. As a result of this function, one of the greatest logistical problems in sport is transformed to a pure routine which saves you a lot of time and stress – whether you're a member, coach or a parent. So what are you waiting for? Get started on SportMember to access all our other features and create a calendar for your team now!