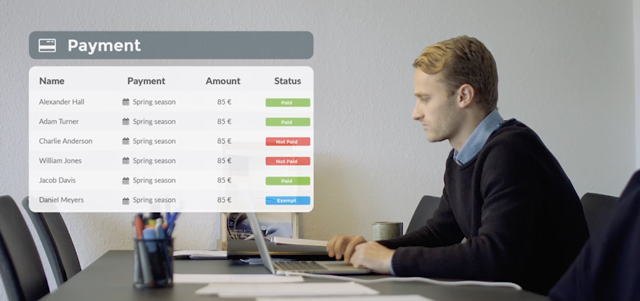 We all know the struggle of getting membership fees on time which can turn any treasurer's job into a pure nightmare. However, this is not the case with SportMember where collection of membership fees is simple, quick and not demanding in any way. The payment tracker system has been developed with the purpose of making all aspects of team and club management as easy as possible. This is why we have put a lot of focus on automating the payment process for payments of membership fees.

This overview is an easy way to see the payment status of everybody with the payment tracker. As a club or team treasurer, you'll get a fantastic and easy tool to administrate the payment of membership fees.
Payment tracker - for all members
The benefits are not just for the club's administrators. As a member of a club you can wave goodbye to postal payments and further 'late' fees in your post-box. Instead, you will receive the bills online and you will be able to pay your bill online within a few minutes. First, you will receive an email notifying you about the payment. Hereafter, the payment itself can be paid in no time using the PSP (payment service provider) Stripe. Next time a membership fee is payable you can avoid moving a finger – if you simply ask SportMember to save your account details. It has never been easier to make a payment. Our online payment tracker system makes it fast and reliable.
All payments are registered immediately in SportMember and members will automatically receive an email with a receipt. Previous payments are attached to your profile. That gives you a detailed overview of time periods and payment amounts of previous seasons.
Keep track of payments: membership fees
In the club, you can change the payment set-up exactly as you please – if you for example wish to receive payments monthly, quarterly or yearly – and if you get new members in the middle of a season, you can adjust how much you charge them.
Here's how it works: You set up the respective payments. You send membership fees out to your members by the single click of a button. After that, SportMember will take care of the rest of the treasurer's job using the fantastic PSP, Stripe. The system will automatically send reminders about outstanding membership fees and you will save a lot of resources. Resources that you normally spent on informing your members about payments and catching up on outstanding membership fee. At SportMember, membership fees and payment requests are simple and clear. Processes that still have to be handled manually in many clubs are automated in SportMember, so collecting a membership fee is child's play.
Membership fees - no payment, no participation
Here at SportMember we understand that you don't want to kick a bunch of members out of the club even though they don't pay the membership fees on time despite repeating reminders. We created a way that can solve this problem. In SportMember you are able to "exclude" these members from receiving notifications of new team activities and thereby from participating in the community until they pay their outstanding membership fees.
This, however, doesn't mean that they are deleted from the team. But it encourages them to pay the outstanding unless they are happy staying side-lined while their team mates are having fun on the pitch. Simply and effectively ensure a healthy business culture in the club where all members that want to have fun and participate will also pay in time.
Easy payment tracker of a membership fee
With SportMember you have in the entry module a detailed overview of all members who pay contributions. Here you can clearly see who has paid when and how much membership fee and of course who still has to pay his contribution. Since the contributions are paid directly through the system, it's automatically updated, so you are always up to date. SportMember payment tracker is easy to access. 
In automated processes, many clubs consider if they lose control or the system can not respond to the individual needs of the club. That's not the case with SportMember. If you have certain members, for example, if you have to pay less through a family discount or you are an honored member or something like that and don't have to pay any membership fee, these members can be relieved or a new amount can be entered.
You also have the option to categorically exclude certain groups of members from membership fees. As a coach or injured players. And if a member pays his membership fee in another way, because he or she doesn't trust online payments at all, this payment can be registered in SportMember so that you still can keep track of all membership dues.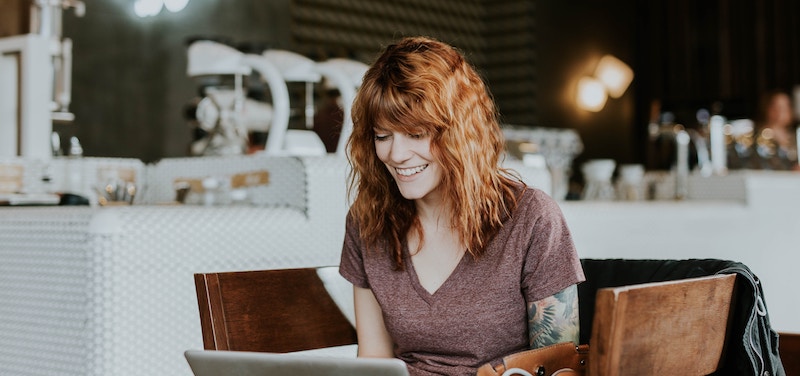 Membership fees for your club - automatic payment requests and reminders 
If you manage your membership fees through SportMember payment tracker, you never have to worry about payment requests or reminders, that's what the system does for you.
14 days before a new payment period, payment requests will automatically be sent to all your members linked to the club membership fees. The beginning of the payment period then also becomes the payment term in this case. Once the deadline is exceeded, you can see exactly who has not yet paid his membership fee, and again send requests for payment or reminders. The payment tracker system automatically suggests the correct recipients in the distribution list.
With our payment tracker you have the opportunity to collect your club payments exactly when it fits your sports club. Whether you want payments once a year, every month or always for the summer and winter season, in SportMember you can find the appropriate module. You can also set the day exactly when the membership fee is due, which is perfect if you what to set it for the day the season starts. Also, different categories of membership fees can be set up, like junior and senior fees, which is then linked to the correct teams.
Once the various club membership fees have been set up, you do not have to touch a finger in the club. SportMember will then know at what time its club membership fees will be collected and will send requests for payment every year to all members affiliated to your club or team with a membership fee. Also new members are automatically processed by SportMember.
New member? No problem - set membership fees payments on a individual basis
In SportMember you no longer have to worry about new members being sent an invoice or payment request when joining the club. If the member is created in SportMember member management, it will automatically be linked to the membership fee.
For example, a youth fee with a youth team. As soon as a new member joins, whether via your homepage, through an invitation from the trainer, through you directly or in another way, the member is also linked to the membership fee. Of course, here can be set up a trial period, so that a member who is set up in a running season is not on the same day still receives an invoice, but maybe 7 or 14 days later.
Payment tracker - the benefits for members
Not only the club managers and treasurers benefit from the payment tracker and payment system. Members don't have to be bothered with invoices by post or cumbersome transfers. Instead, the membership fee can be done online with just a few clicks via Stripe or credit card. When the next payment is due, members will receive an email directly to their mobile device or PC. Subsequently, the payment tracker can be made in just a few steps and the system can be set so that future payments will be automatic.
All deposits are registered directly in the system and the members will immediately receive a receipt by email. Payments made are automatically linked to the members' profile so that they always have an overview of their payments to the club.
Membership fees not paid - alternative option
For whatever reason, in almost every sports club or team there is this guy: the member who simply does not pay his membership fee. In some clubs and teams there is also a good handful of them. We at SportMember understand perfectly, that you don't nessecerally want to throw members out of the club or team, even though they have repeatedly failed to pay their fees despite warnings. Therefore, with SportMember you have the opportunity to automatically "exclude" your non-paying players from activities by not being able to log on to view and sign up for them. So basically they can not be part of the community until they have paid their fees.
However, this does not mean that they are deleted from the team list or are no longer part of the team. It's just an added incentive to pay your membership fee, otherwise you'll have to watch the games from the sideline while the teammates have all the fun.