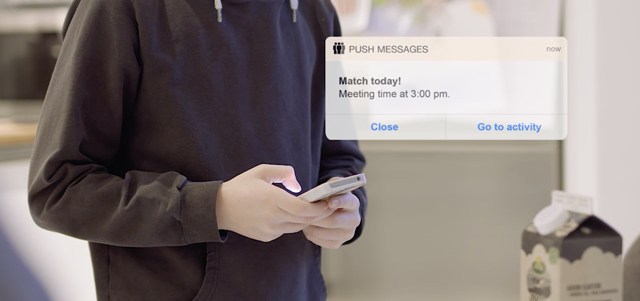 If you, as a coach, still message each member of your team every time that you have a new team activity – and if you're tired of wasting your time doing it – then you should read the following. SportMember offers you a free push service that ensures you don't have to worry about figuring out which of your members will attend the various activities. We'll take care of that for you.
What are push messages?
With a mobile push notification service like ours, you are can make the system send automatic notice directly to the user's phone. That means they will receive the notification as a pop-up message on their home screen. Your members will have all the information they need send directly to them automatically. As a coach, you no longer have to text the members with the changes.
The coach just needs to decide on when and where the members must be notified about the upcoming events. When the coach creates an activity in the team's calendar, then all the members will automatically receive a push notification on their
phone – that is if they have downloaded the app. This push notification is repeated every couple of days until the player has responded whether he/she is able to attend or not. There is no longer an excuse for not knowing when the next team activity is taking place – with SportMember's push messages, you're always kept up to date!
Members are notified when activities change
If you're changing a team activity to another date or time, the entire squad will automatically receive mobile notifications immediately. Unless, if you as the coach have changed the settings to avoid this.
Moreover, the coach can send an email to the members of the team – both individually and collectively to the entire squad at once. The coach is therefore always able to easily contact his/her squad.