There are many practical advantages for having an online platform for your sports team, and setting it up as a website makes it easier to navigate. Here at SportMember you'll get access to a sports website where you can create a team website for free. Our sports club website builder is very intuitive to use and it is developed to be used for sports teams or clubs. As administrator of the site you'll be able to upload content and organize the teams schedule. You can also make it public accessible so that those who aren't team or club members still can see the schedule and any updates that might be posted.
Free sports clubwebsite builder - gather your sports team online
One of the great things about having a sports clubwebsite created through SportMember is that, when changes or updates are made in the SportMember software by either coaches or club managers, everything is automatically uploaded to the website. It could be adding new activities to the calendar or writing club newsletters etc. You will save a lot of time and resources by not having to manually update everything. Once you've created your sports team page with our website builder, you can use the software to as your CMS system. If you don't have any experience with building a website don't worry. It's very straight forward and free of charge. Once it up and running, there's very little maintenance required to keep it going.
Sports clubwebsite builder: Create your own sports website
From the homepage you can click on separate team pages which have their own team calendars, so that members can get a quick update of the upcoming activities, which are relevant for their team. This is very useful if you're in charge of a sports club with multiple teams, and it's a great feature for the coaches and players as well. With the sports clubwebsite builder you can also add sign-up sheets, so new players can request to join the club or a specific team. For those who already are members, there is a login logo on every page, so what they can log onto their account from anywhere on the sport clubs website.

Sport clubwebsite design - design to fit your sports club
There are some considerations to take into account when you're building a clubwebsite for your club and team. A presentable and welcoming homepage is always nice for your members, and it can be a major factor for appealing to new potential members, who can be visiting your site for different reasons. That's why we encourage you to add text and menus to the homepage, that could include the club's values, rules, teams, history and so forth. There are many ways to make your visitors want to explore more of your website with SportMember's clubwebsite design. 
The sports clubwebsite builder has been developed so that it can personalized to your club as much as possibly with website design and site builder login. There are a few templates to choose from, which makes up the framework of the layout. But otherwise you can add logos, pictures, videos and design the colour scheme to match your clubs colours. The sports club's Facebook-feed can also be integrated with the website, and you can add YouTube videos that can be played directly on the site. When all these pieces come together, you'll have your very own sports clubwebsite free for everyone to visit, and perhaps you'll attract some new members. It will definitely be appreciated by all current members and fans.
Create a clubwebsite: Content for your sports team
If website design is new to you, then where's some ideas you can use for your sports club website design. The website needs content about the sports team, and that can be added in different ways. You decide what should appear on your clubwebsite and what should not. Most content is added in the following formats:
Text: Every website needs text. For your team's site or page you write a welcoming message to members and visitors, share match reports, team's history and so on. It doesn't have to be much, but just enough so visitors know that it's your sport team's website, and so it doesn't look empty. 
Activities: All the activities entered in the SportMember software can also be displayed on your new sports team website. All the practices and matches and what else may be scheduled in the shared calendar is preset to automatically update the website. If you're building a clubsite the software can distinguish between club and teams' activities.
Photos and videos: Here's where you can get really creative. Insert individual images on different pages of the team's website or gather all the photos in a slide show. Furthermore, you can also have the SportMember gallery displayed on your sports team's website. You also have the option to share YouTube videos on your site or upload team videos that can be viewed directly the site.
Contact Form: It's not unlikely that some of those visiting your website, are potential new members or maybe even new sponsors. For these reasons having a contact form ready, where interested can contact you and ask questions or requests, can be very useful. You never know who or what might drop by.
Sponsor Slider: The sports team website offers you a great platform to represent your sponsors. You can display the sponsorships in the form of a slide show or with  individual images. Usually they put at the bottom or the left side of the screen.
News: Lastly, you can also place any club or team news on your website. You have the option that the news can be uploaded directly from your SportMember dashboard. A newsfeed is of course an excellent way of keeping your members updated on the team's or club's progression or other events that might interest your members.
This is just a selection of the most used features that you can use with our website template. You have the option to integrate more SportMember content, as well as external content onto your sports team website. If you're an avid web designer, you'll have no problem with our website builder, and hopefully you'll agree it suits the purpose of building a sports clubwebsite very well.

Free clubwebsite builder for sports teams and clubs - who has access?
When the website is ready to go online you it will be publicly accessible when you launch it. Of course, none of them are able to edit the website. In the SportMember software the sports team or clubwebsite is part of the club level administration. Thus, only an administrator has the rights to create, edit and publish the website and it's contents. However, If a player, coach or member is very interested in designing the website this is of course possible. We have created the role of webmaster in SportMember. The webmaster only has access to editing the website and therefore cannot see further details at the club level. You can assign the role of webmaster to any person in the club. Similarly, you can delegate responsibility for the website to more people, so that it's not just one person who's responsible. For instance, if the webmaster leaves the team or club - you still have people in the who are familiar with the website.
Football clubwebsite builder: create an online club community 
Our sports clubwebsite builder is suitable to all types of sports teams or clubs, but it is mostly used as a football club website builder. There is one main reason for this, and that's simply the fact that  there are a lot more football clubs than any other sports clubs. A custom website is a great way to create or maintain an online community around the club. There are also all the practical advantages of having a clubwebsite when are managing a football club. For coaches we an extra feature which is lineup building. It's a great tool for coaches, and you can also upload the lineup on the website for the upcoming match. SportMember has this football club website builder and website builder for other sports.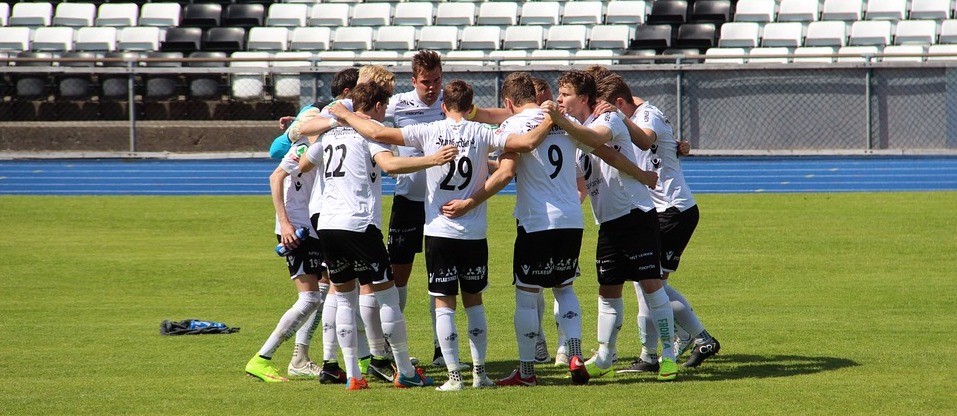 Free Sports clubwebsite builder - advanced analysis
If you have higher ambitions for your sport club's website than ordinary communication with members, you can connect the website to the free software 'Google Analytics' in the club level of SportMember. Google Analytics make it possible for you to track the behaviour of your visitors and users of the site, and get an idea of which pages are visited and which ones aren't. It also lets you know the age group, gender and geography of your visitors. If you're fairly large club you can use this information to get new sponsorships or sell ad space to local businesses. Google Analytics can be a valuable tool, if you take the time to analyse your data. If you want the rights to the ad space on your website, you'll have to upgrade your membership at SportMember to a paid subscription. The upgrade will include some extra features. Better design templates and the club's website will adjust itself for both computers, smartphones and tablets. Besides rights to ad space, you'll also have the opportunity to add your own club ads such as banners if you want to advertise for season start, social events and much more.